It's funny how things happen.  This week several NatureOutside readers Emailed me to ask for advice.  They were planning their first trip to Yosemite and wanted tips and advice.  Particularly, they were seeking maps and guidebooks to help them select exciting hikes in the park.  By coincidence, several people on Facebook just asked me the same questions.
So, I thought I'd provide pointers to maps and books that can help you plan your trip to Yosemite.
This post contains affiliate links.
Articles on NatureOutside
On NatureOutside, you can find descriptions of three hikes in Yosemite.  They really aren't written to be trip planning guides.  But they will give you a feel for the park.  Click on the green links to read the articles.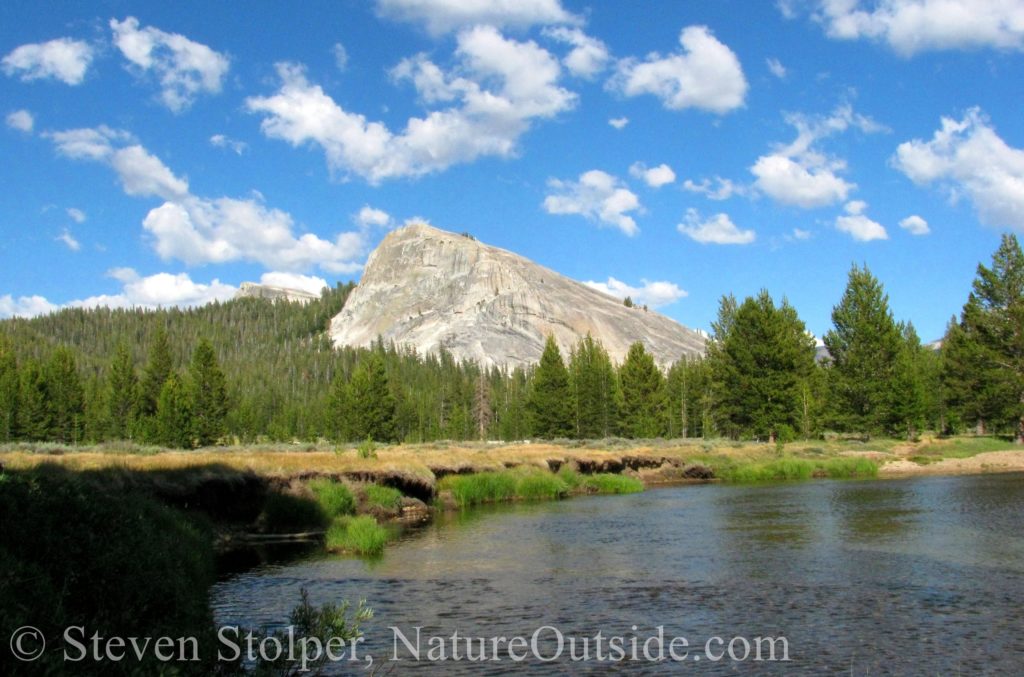 Lembert Dome is a short hike from Tuolumne Meadows.
One of the most famous (and arduous) day hikes in Yosemite National Park.
The High Sierra Loop (Series of 7 articles)
This 49-mile multi-day hike can be done on your own, with a ranger guide, or as part of a mule train.  You stay overnight at the High Sierra Camps so you can do the entire trip carrying just a day pack.
Hiking Guide Books
I use guide books to plan my hikes and to learn detailed information about each trail.  Sometimes I carry a book in my pack if I think a trail might be tricky to navigate.  But more often books remain in the car to save pack weight.  Occasionally, I will photocopy pages to carry, if I plan that far in advance.
I never rely on just one book.  I usually choose two books that complement each other.  One with detailed information about each trail, and another that sprinkles natural history throughout its trail descriptions. 
Below are the latest editions of two books I really like.  I own older versions that are out of print, but you can sometimes pick them up for a bargain price.  You can click on the picture of the book, or the links to see the book on Amazon.

Yosemite National Park: A Natural History Guide to Yosemite and Its Trails with Map by Jeffrey P. Schaffer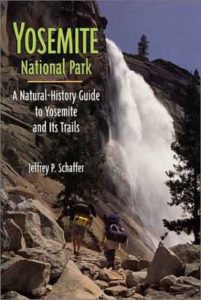 Author Jeffery P. Schaffer writes prolifically about hiking in Yosemite and the Sierras.  What makes this book different from others is the amount of natural history it contains.  Schaffer describes unusual flora, fauna, and geology along the trails.  This helps enrich your hiking experience.  An introductory chapter covers early history of man in the park.
There is a topo map included at the back of the book.  Quite frankly, it sucks.  It covers the entire area of the park so the scale (1:125,000) makes features too small to use this map for navigation.  By comparison, USGS topographic maps have a scale of (1:24,000).
I like this book so much that I am recommending it, even though it appears to be out of print entirely.  But you should be able to find a copy with a little effort.  If you know of another book with this unique blend of natural history and trail information, please let me know in the comments below.
Hiking Yosemite National Park: A Guide to 61 of the Park's Greatest Hiking Adventures (Regional Hiking Series) by Suzanne Swedo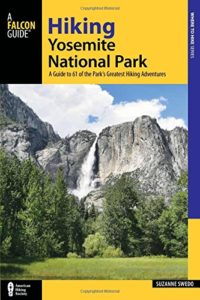 Suzanne Swedo's book provides detailed information on each hike.  She includes elevation charts and a small map with each hike description.  An overall map shows the trailheads covered by the book.
The latest edition has 61 hikes.  My older edition has 100.  But I recommend the latest one, which is likely to contain more up-to-date information.
I like this book because it is well organized and contains the vital information about each hike.
Hiking Maps
Below are several maps I use to hike in Yosemite.  You can click on the blue links or images to see the different maps offered by various vendors.
Park trail maps
When you enter the park, you receive The Yosemite Official Map & Guide.  It's good enough for locating the trailheads and hiking popular, well-maintained, trails.  Here's a link to the park's maps page.
If you plan to hike any distance, you should carry a more detailed map for navigation.
Commercial Maps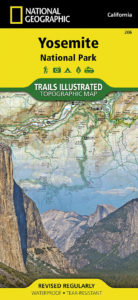 My favorite commercial map is the famous "Trails Illustrated" map.  Mine is circa 1987, and I have not been able to find a newer one.  It looks like National Geographic offers a newer map that is similar (see link above), and they may have even acquired the Trails Illustrated brand from Rand McNally.  They also offer maps of specific regions of the park, which I assume have more detail.  I recommend you look at these newer maps rather than look for the original.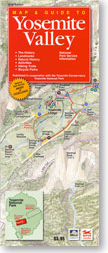 These maps are fun!  Produced by a San Francisco company, they are as much art as map.  The maps depict terrain as three-dimensional color drawings.  Mountains, lakes, trails, roads, and buildings are all drawn with 3D perspective.  They're great maps for people who don't like maps! 
They're not detailed enough to use for navigation.  But the 3D rendering shows you Yosemite's breathtaking vertical landscape in a way unmatched by any other map.
There are separate maps for Yosemite Valley and Tuolumne Meadows.  For more information, see the Rufus Guides Website.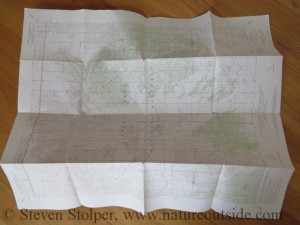 For serious navigation, I use USGS topo maps in combination with the Trails Illustrated map.  The Trails Illustrated map is easy to read and calls out all the trails.  But topo maps are the ultimate authority for navigation.  If I'm unsure of my position, or I'm bushwhacking, I always use a topo map with a compass.
You can purchase USGS maps from many outdoor retailers.  Or buy them directly from USGS.
The quadrangles I use are Half Dome, Yosemite Falls, Tioga Pass, and El Capitain.  For my High Sierra Loop hike, I used Falls Ridge, Tenaya Lake, Merced Peak, and Vodelsang Peak quadrangles.
If you would like to see which quad covers which areas of the park, you can visit Yosemite's topo map page.
Some people have trouble folding the large topo maps.  So I've written a quick tutorial for how to fold your topographic maps.
Enjoy Your Trip
Enjoy your trip to Yosemite National Park.  When you visit, you quickly realize that it is one of the most beautiful places on planet Earth. 
Do you have suggestions for other trip planning resources?  Please share them in the comments below.
Related Articles on NatureOutside
Off the Map Adventure – The Sandstone Caves
For fun facts and useful tips, join the free Bushcraft Newsletter.