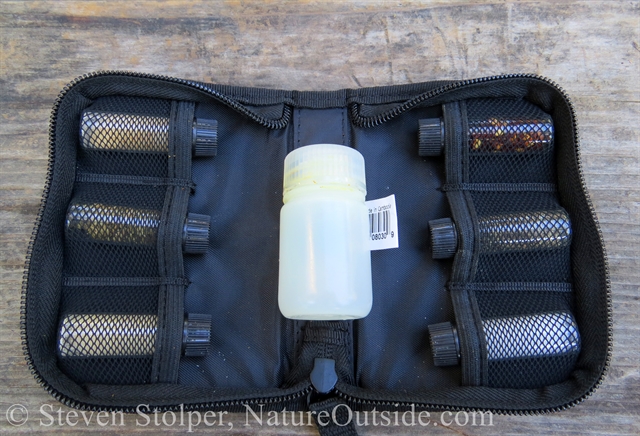 I feel a Hemingway quote coming on.
Outside of insects and bum sleeping the rock that wrecks most camping trips is cooking.

– Earnest Hemingway
Papa Hemingway has it right.  Many outdoorsmen are lousy cooks.  And cooking can make or break a camping or backpack trip.  It's not just that food provides energy.  A hot hearty meal at the end of a long day nourishes the soul.  Nothing feels better than stretching your legs to the campfire, cradling a mug of hot chocolate in your hands, and feeling the meal in your stomach radiate through your body.
You may be surprised to learn a rough and ready guy like Hemingway cared about outdoor cooking.  After all, Hemingway is notorious for his unbridled masculinity.  He's the original man's man.  And cooking, at least domestic cooking, has acquired the mark of femininity. 
But Hemingway appreciated the ways of the woodsman.  And he realized that the true mark of a good woodsman wasn't to "rough it."  It was to "smooth" his time in the wilderness.
It is all right to talk about roughing it in the woods.  But the real woodsman is the man who can be really comfortable in the bush.

– Earnest Hemingway
So today I want to share with you how to construct a spice kit.  It can help you transform bland camp cooking with wild flavors.
What is a Spice Kit?
It's exactly what it sounds like – a small portable kit containing spices to flavor your camp cooking.  Now many people like bland food in the mountains, especially when spending their first days at altitude.  But the more you spend time outdoors, the more you appreciate flavorful food on the trail.
The spice kit has the tools you need to add appeal to otherwise bland trail food.
How to Construct your Spice Kit
Conceptually it's simple:  You need containers for your spices and a means for carrying them.  You also want them well organized so you can locate the spice you need at precisely the moment you need it.  And finally, you want them sealed to prevent leakage and smells that may attract animals
In the past I've talked about the joy of making your own gear.  And your spice kit gives you an opportunity to do that.
So let's get to it.
This article contains affiliate links…
Storing Your Spices
How much spice do you need? 
I usually camp or backpack for no more than three days.  My work obligations don't allow for longer trips.  And usually I'm cooking for two or three people.  So my spice kit is sized accordingly.
Many years ago I stumbled onto the trick of carrying my spices in glass perfume vials.  It sounds wacky at first but makes perfect sense.  They're made from the same Borosilicate glass used for science laboratory glassware.  The glass withstands temperature changes to keep a tight seal.  It also resists chemical corrosion and is strong yet lightweight compared to other types of glass.  The result is a thin durable vial that keeps my spices clean and protected.
I use these 1 dram (1/8 fl oz) vials for my trips.  The phenolic caps have liners that let me seal and reseal the vials easily.  Occasionally I carry 2 dram (1/4 fl oz) vials when I cook for larger groups.  The vials are inexpensive, so it's no big deal if I lose or break one.
Carrying Case
I've been carrying my spice vials for many years.  And during those years I've dreamed of making a leather pouch to carry them.  It would be a vegetable-tanned leather pouch with a snap closure.  It would unfold to reveal an elastic strap securing my vials in place.
But that magical pouch is still a dream.  I've never had time to do the project.  Instead, I kept the vials in a simple deerskin tinder pouch.  The soft deerskin offers little protection.  And I always find myself rummaging through the loose vials to find the one I need.  It serves its purpose, but it's not a great solution.
After many years, I found the perfect carrying case – on Facebook!  Someone asked how he could re-purpose a pouch designed to carry USB Flash drives.  It suddenly clicked:  The case is perfect for carrying spice vials!
Here is the case I carry.  It measures 5.25″ x 3.75″ x 1″.  The nylon and neoprene construction gives it rigidity.   Mesh pockets hold the vials in place and a zipper keeps the case shut.
The spices I carry most are:  salt, black pepper, red pepper, oregano, garlic, and paprika.  I use the black pepper, red pepper, oregano and garlic for pasta dishes.  For other dishes I carry paprika and sometimes onion powder.  Occasionally I rotate in curry powder or cinnamon.
I carry olive oil (or sometimes Canola oil) in a small plastic container.  If I use 2 dram vials to carry more spices, I remove the plastic container to provide enough room.
Have Spices Will Travel
So it's easy to assemble a small kit that adds pizzazz to your outdoor cooking.  There is one drawback, as Hemmingway points out:
The penalty for knowing how to cook is that the others will make you do all the cooking.

– Earnest Hemingway
So have fun and let me know your favorite spices and how you use them in the comments below.
Win a Free Spice Kit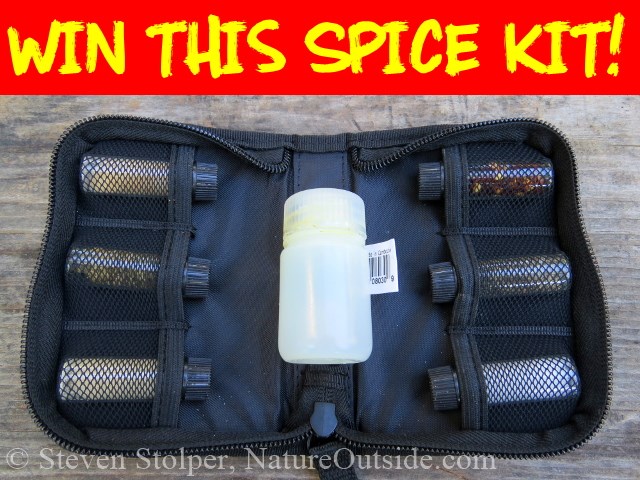 Enter to win a spice kit like the one in this article.  Click the link below to enter and subscribe to the free Bushcraft Newsletter.  If you already receive the newsletter, you are automatically entered to win and signed up for all future giveaways.
This giveaway has ended.  But click the link below to join the Bushcraft Newsletter.  You will automatically be entered to win for future giveaways.
References
Camping Out, Ernest Hemingway (was originally published in the Toronto Daily Star on June 26, 1920).
Related Articles on NatureOutside
The Secret to Make Piping Hot Doughnuts while Camping
For fun facts and useful tips, join the free Bushcraft Newsletter.