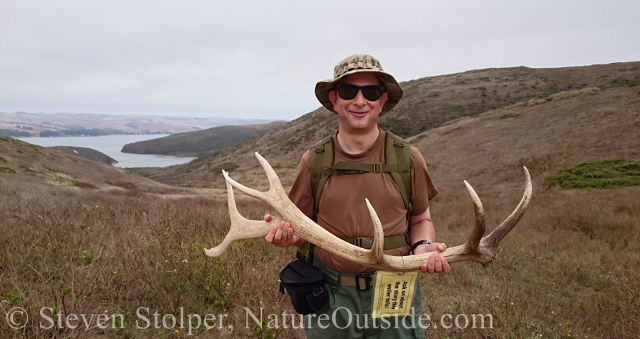 Reindeer don't hang around Northern California.  And we don't get holiday snow either.  Perhaps that's why I'm drawn to Pt. Reyes this time of year. 
Point Reyes National Seashore is a hidden gem of our National Parks System.  As its name implies, it is famous for its magnificent coastline.  But Point Reyes is actually a confluence of ocean, intertidal zones, forests, prairies and grasslands.  It lies on a peninsula, separated from the rest of California by the infamous San Andreas Fault.  The edges of the peninsula are beaches, sea cliffs, and intertidal zones.   The ocean dominates this land.  And the climate is much like what you'd find out to sea. 
What brings me to Point Reyes this time of year is the Tule Elk.  Point Reyes has a Tule Elk Preserve.  And a hike to Tomales Point (9.4 miles round-trip) feels like an African safari.  Herds of elk surround you as you hike.  My two favorite times to visit are in late September to see the rut, and in December to usher in the New Year.
Here are some pictures to give you a feel for the trail.
Have you Herd of Tule Elk?
Here is some info from Wikipedia:
Tule Elk is a subspecies of elk found only in California.  It is the smallest subspecies of all American elks, with the average weight of adult males only 450 to 550 lb. The females average 375 to 425 lb.  It is about half the size of the Roosevelt elk.

– Wikipedia
When the Europeans first arrived, an estimated 500,000 tule elk roamed California.  But by 1895, habitat loss and poaching had reduced the elk population to only 28!
My understanding is that the elk became extinct in the Bay Area.  And the elk in the preserve are descended from animals reintroduced from a population in the central valley. 
Seeing the elk can be a bit challenging in winter.  The vegetation is reduced, which makes it harder to stalk up on them.  Also, lots of tourists are out hiking for the holidays.  So the Elk are alert and keep farther away.  That's why I always start my hikes early in the morning.  During the cooler months, the elk don't congregate around water sources as often.  So they are not always in the places I usually find them.
In winter months, they roam in groups segregated by sex.  I saw several bachelor groups and several groups comprised only of cows.  Here is a small part of a bachelor group.  Usually I see three or four in a group.
The trail ends in an amazing promontory.  When you get there, you feel like you're at the end of the world.  A great place to stop for lunch!
The elk are "trapped" on the penninsula.  There are cliffs on three sides and many miles away the preserve is cut off by a fence.  This does not always stop the Elk from wandering off, but it keeps cows from wandering in.
During the rut, you can hear the males bugling from a mile away.  Docents station themselves along the trail and have sheds for hikers to examine.  The weight and girth of the antlers really allows you to experience the size of these amazing animals. 
More to sea!
But there's more to see than the elk and the ocean.  Here's some interesting wildlife I saw on the trail.  My favorite is a long-tailed weasel.  The pictures are grainy.  But it was awesome to experience the creature up close.
Under-visited and Totally Awesome
I hope you get a chance to experience this amazing hike just north of San Francisco.  Do you have a favorite Point Reyes experience?  Tell me all about it in the comments below.
More Hikes on NatureOutside
Change Your Trail to Change Your Attitude
Yosemite National Park – Maps and Books for Hiking
Conquering My Fear at Berry Creek Falls
For fun facts and useful tips, join the free Bushcraft Newsletter.