Our National Parks are "America's best idea."  Well here's an even better one:  Free Admission!
Free Admission
Every year the National Parks Service offers free admission to all National Parks on select days.  It's a great idea to help get Americans outdoors.
The big week is National Park Week.  This year it's April 15 to 23.  To celebrate, the Park Service offers free admission to all national parks for two weekends:  April 15-16 and April 22-23.  So if you've been hankering for a road trip, now's your chance to be dazzled by some of America's most beautiful wild country!
April is a slow time in many parks, so it's a great opportunity to commune with nature.  I haven't decided where I'm headed.  Last year it was Pinnacles National Park to hike through the bat caves and look for California Condors.   This year?  Hmmm… there are so many to choose from!
More Free Admission to Come
In addition to National Park Week, the Park Service is also offering free admission on the following days: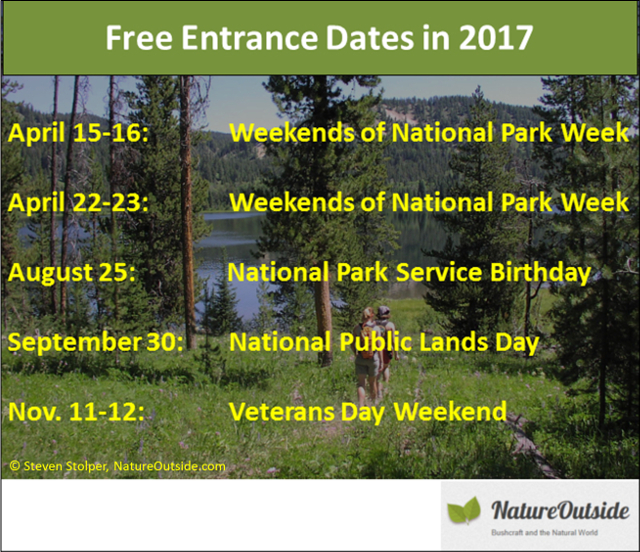 So take advantage of "America's best idea" during the free admission days.  Besides free admission, the Park Service is throwing in complementary sunshine, fresh air, beautiful views, and amazing animals.  What a bargain!
Related Articles on NatureOutside
Change Your Trail to Change Your Attitude
For fun facts and useful tips, join the free Bushcraft Newsletter.