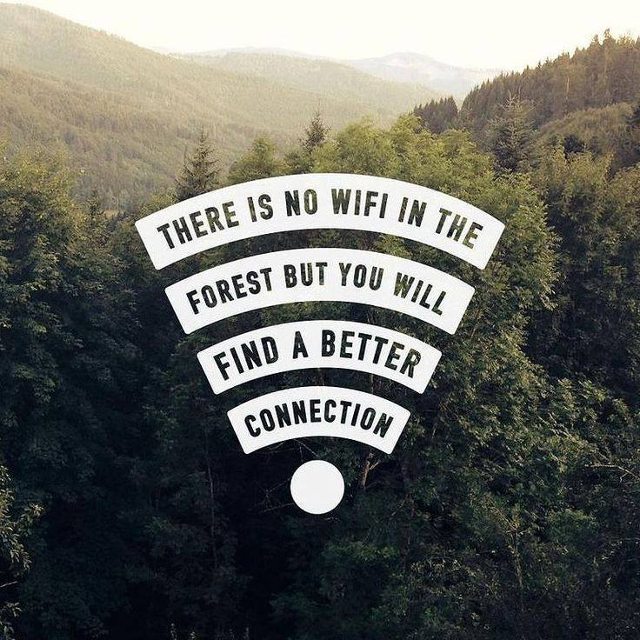 This meme appeared in many forms across the Internet and on Facebook.  So I don't know where it originated.  But it's a great reminder of an important message.
Research shows walking in nature changes your brain — in a good way!  People who walk in nature have fewer psychological problems than people who don't.  And hikers have lower levels of stress hormones after a nature walk than people who have not recently been outside. 
Today I met a student in a wilderness first aid class who plans to hike the Pacific Crest Trail.  It will take him five months to walk the 2,650 miles from Mexico to California.  When asked if he plans to remain in constant contact with the outside world, he replied, "I want to connect with nature.  I can't do it if I'm on the phone every day."
He's right.  At the start of your next hike, take several deep breaths and let them out slowly.  Listen to yourself breathe.  Slow your mind and notice your surroundings.  As you hike listen for sounds, pay attention to smells, feel temperature changes in the air.  Live in the moment!
Too often, we spend our daily lives running around with our hair on fire.  Take a moment to bathe in nature.  Turn off the Wi-Fi and find your connection!
Related Articles on NatureOutside
Change Your Trail to Change Your Attitude
Walking in Nature Changes Your Brain!
Nature Scavenger Hunts – Still as Good as they Used to Be! (Free Download)
For fun facts and useful tips, join the free Bushcraft Newsletter.